Each week (time permitting) I look at the flags and associated symbols of a city or town in Rhode Island, the town's history and then offer sample flag redesigns. This week, I look at the City of Warwick.
About Warwick
Like I did with Providence, I wrote a whole history of Warwick, from the Native American inhabitants who were there before "Warwick" was even a thing, to Gortonite Shawomet and its integral part of the unification of Rhode Island, to Boss Brayton's corruption to its recent development as a suburb and its political role in Rhode Island.
What has Warwick got now?
Like other cities and towns in Rhode Island, Warwick has a coat of arms:
The above image is from the Tercentenary Commission's illustrations of all the arms of the various cities and towns. The Commission blazons the arms as so:
Gules a chevron between three crosses botonne or, on a chief of the last an eagle displayed of the first. A gold chevron between three gold crosses on a red field, with a red spread eagle on a gold stripe at the top.

Warwick was named from Robert Rich, Earl of Warwick, and these arms are those of the Earl, differenced by the eagle displayed, which was the device used on the seal of the Town Council of Warwick during the colonial period.
Warwick was indeed named after Robert Rich, who was chair of the Commission of Plantations in the English Parliament. This makes it one of a number of towns named after living people, and also one of those that adopted/was given an existing family's arms.
So this brings up two key points about Warwick's arms: it's both the old council seal combined with a noble family's arms (Rich was actually the third family to hold the Earldom of Warwick since 1088). First, it's important to note it does not, as former mayor Scott Avedisian appears to have suggested to the Warwick Beacon, suggest "a connection to Warwick, England." Warwick is named for the Earl of Warwick, not the town.
Second, the Warwick Heritage Commission seems to be under the impression that that is not an eagle, it is a wyvern (a two-legged dragon). I'll give you their rationale, and then show you the old seal of the Council of Warwick:
Although some authorities have attempted to credit it with being an early use of the spread eagle, details of the crude drawing do no [sic] bear them out.    It is obviously intended to be a grotesque, unnatural creature rather than the majestic bird indigenous to the New World.     This disproportionate size of long legs and small wings is not that of the eagle, and the beak is equally that of a dragon.  The lack of spurs on the feet is the distinguishing mark of the wyvern, and settles the argument.
Okay, so this is the old seal of the Council of Warwick, used from at least 1732 to 1771:
The Heritage Commission appears makes two assumptions: first, that engravers in the early 18th Century were always good, and second, that the eagle is somehow a New World eagle? The engraver (potentially) could not properly spell "council" – what is behind the assumption that they could readily illustrate an eagle. Second, who says this is a New World eagle (ostensibly a bald eagle)? Eagles have been heraldic figures stretching back thousands of years. The intention of the engraver is not, as the Heritage Commission suggested, "obvious." Wyverns are also frequently depicted with a fourth claw, much like an eagle's claw has, so the missing spur does not settle the issue.
So where did the wyvern come from? Well, the Rich family used a crest (which is a separate part of a full achievement of arms) of a rising white wyvern ("rising" and "displayed" are ways to position winged animals). So, under that reading, perhaps this is a wyvern? But I don't understand then why the engraver gave the wyvern feathers and a feathered tail instead of scales and a more usual arrow-shaped tail tip. I've also yet to find a wyvern displayed like eagles often are. It's plausible, I suppose, but it would also be extremely weird.
Regardless of whether it's an eagle or a wyvern (I'm Team Eagle), Warwick actually has two seals that are both used in different configurations. This first one, which follows the colors given by the Tercentenary Commission, appears to be the earlier one. It still appears in town use.
At some point, someone updated this, and produced something like this:
That seal can be found all over the place in Warwick, on City vehicles and on signage posted by the City. It's apparently also on the flag, as a city clerk sent Valentin Poposki of CRW Flags of the World an image around 2008.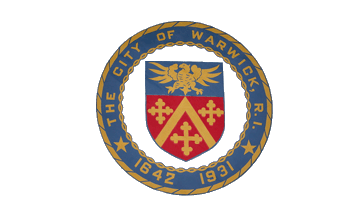 Members of NAVA (the North American Vexillological Association) wrote about Warwick's flag (the above) in 2002-2003 for a special double issue of the Raven. They attributed the seal design to a Nathaniel Tiffany, but I was unable to figure out what seal Tiffany designed (internet sources led to a Nathaniel Tiffany who was born in Bristol, RI in 1706; but it wasn't even part of RI at that point, so it's quite confusing).
Anyhow, you can see that the chief on the arms on the newer seal has been swapped to blue for some reason. I do think the color change looks better, but it does sort of diminish the historical connection of the arms somewhat.
Digitizing Existing Designs
Operating on the assumption that the chief does indeed contain an eagle, I've created these two images. The first is an eagle of my own creation, because I wanted to tackle the challenge of creating a heraldic eagle. I'm not particularly happy with how it turned out, but I do feel like I did much better than I might've at the start of this project. At right is one using WappenWiki assets.
Vectorizing the seal was a little easier, since the new eagle/wyvern is made up of relatively simple shapes, but makes it even harder to identify. I ended up using a font called Teko to approximate the font on the flag, which uses a fairly square capital "C".
And if you have a seal, you have the town flag.
If you're not sick of my criticism of seals-on-a-bedsheet by now, then you are in for a treat. This isn't a great flag. The seal is relatively interesting as seals go, but they don't belong on a flag. What's the point of having the arms if you're going to put them in a seal with your city's name on them? Why include the founding and city incorporation dates? These aren't legible at distance.
In that Warwick Beacon article, Avedisian is quoted as saying about the flag "…our seal is very much a connection to Warwick, England. The flag utilizes that seal in a simple and traditional way… It may not be exciting and trendy, but it is a tangible connection to our vibrant and rich history."
It's important to note that multiple sources suggested Warwick's arms were either related to Warwick, England or those of the "Warwick family" – these appear to be false. Warwick, Rhode Island's arms appear to be Warwick's alone; they are the Rich family's arms differenced by the addition of a chief of either gold or blue, bearing a wyvern or an eagle of either gold or red.
Avedisian was correct that this is a "traditional" American flag design, in that American flag design largely descends from parade flag design, especially from post-Civil War parade flags for various regiments. Is it simple? Not really. I will also say, I agree it's not exciting. Not "trendy" is questionable. What is trendy in flag design?
Anyhow, I believe Warwick deserves a great flag. It's an important city in Rhode Island that had a huge impact on how this state came to be.
Redesigning Warwick's Flag
Designs 1a & 1b
So, a little about this eagle. I designed two eagles. One on the arms I showed above, and one a little more stripped down and modern, which I wanted to use for a specific flag (Designs 2a, 2b and 2c). But illustrating eagles takes time, and in the interest of getting this post finished, I never designed a third eagle specifically for flags like this. The important thing to remember is that the eagle on the hoist stripe could be executed any number of ways.
This design is my typical opening adaptation of the arms. As in past examples of flags with chiefs, I've moved the chief to the hoist side and kept the bottom part of the arms oriented vertically. This creates a nice heraldic banner (and if you choose a more traditionally-executed eagle, something that's relatively timeless). I've done this design in both the original red on gold chief and the more recent gold on blue chief.
Designs 2a, 2b & 2c
This design is what this eagle was created for. I wanted something a little modern looking for the eagle, but to make it a bald eagle, because… well, America. The way the eagle's wings come up are intended to create a negative space that suggests a "W" for Warwick. Design 2a is an adorned update the original seal, using the original colors from the arms. Design 2b uses four stars, recognizing Warwick's place as one of the four original towns that united to form Rhode Island, and as a place that supplies governors (the flag of the Governor of Rhode Island uses four stars in the corner). Design 2c replaces those stars with the crosses to recognize the Earl of Warwick. Though there is no intended meaning for the number of feathers on the eagle's breast, twelve could stand for the original twelve purchasers of Shawomet.
Designs 3a, 3b & 3c
These designs are intended to invoke the Scandinavian cross, to represent that Warwick at one time had the largest number of Swedes in the state. The Scandinavian cross' nature of being offset towards the hoist side of the flag also works to represent the splitting of Warwick from West Warwick. Design 3a uses the cross botonne along the full width of the flag, with a canton bearing the eagle (again, you could use a more traditional eagle here). 3b goes with a more traditional straight take on the Swedish flag but differenced by the red canton bearing a gold eagle. And 3c alters the lines of the cross to create an approximation of the way T.F. Green Airport's runways cross.
Design 4
It's perhaps not particularly inspired, but a big W works pretty well as a flag. In this case, I've included the crosses botonne as a way to connect back to the Earls of Warwick, and to help mask the "it's just a big letter W" nature of this flag.
Designs 5a & 5b
During WW2, there was a fighter squadron (the progenitor of the modern 325th Operations Group) that trained at T.F. Green (then Hillsgrove Airport) that was nicknamed the Checkertails for the checker pattern they painted their fighter planes' tails. These two flags use that pattern to create a distinctive design that's memorable and has a bit of historic resonance to the days of fighting fascism.
Wrapping Up
Warwick has a lot of history, and I didn't even begin to explore the sorts of places you could go with a flag redesign: you could do something about the Gaspee, you could include the various neighborhoods and villages in some manner, you could develop new symbols. As much as I don't think that was intended to be a wyvern on the seal and arms, you could embrace that ("Warwick Wyvern" is pretty alliterative). Either way, Warwick should probably decide whether it's an eagle or wyvern at some point (but I realize it has more pressing matters).
Hoping to be back next week as we enter the trio of "west" towns: West Greenwich, West Warwick, and Westerly. After that, Woonsocket will close out all the municipalities of Rhode Island!
As always, vote in the poll: